Transparency is core to what we do at Atomic.Finance.
To that end, beginning this past June, we began to share publicly our monthly updates that we send to our investors and advisors. As always, if any of you have a new thought for us (it could be ideas, feedback), please give us a shout @AtomicFinance on Twitter! Thank you being on this journey with us to build #SoundFinance together. 💪
- Tony (CEO @ Atomic)
---
Email to Atomic Finance investors and advisors sent September 28, 2021
Recap from last month:
In last month's update, I discussed the positive early feedback we received from users on our recurring strategies feature during our "feature stub" experiment, as well as how eager they were to start using the feature as soon as possible.
From this experience, we learned that recurring seemed to address some of our user's biggest concerns that they had: the feeling of gambling, risk and reward of initial manual strategies not good enough, and the tension in user's minds where it feels like "I'm bullish on BTC but entering into a covered call feels like I'm betting against it"
I also discussed how we began the process of working on the design, engineering, and trading backtesting work needed to ship this feature.
This month's TLDR:
This month has been a BUIDL sort of month - with the primary focus being a continuation of the design, engineering, and trading backtesting work described previously. At time of writing, we're at about 3 weeks away from launch of recurring strategies to our closed beta testers.
Design / front-end: finalizing UI changes associated with recurring strategies
Engineering:
Recurring strategy backtesting - working with our trading advisor to land on an optimal backtested strategy
Stop loss functionality on the protocol
Improved testing and oracle validation were the key focuses
---
🙋🏻‍♂️Asks:
Are you connected with crypto traders with backtesting experience? Or, do you know where we might be able to find one?
We're looking to bring onboard a trader to help us part-time with backtesting moving forward to develop additional recurring strategies for different market conditions.
So far, we've been enlisting the help of Joe, our options trading advisor to help us develop our first recurring strategy based on short puts. Moving forward, as his role focusses more on the market making entity, we'll likely need another person(s) dedicated to the backtesting.
📈Metrics / Waitlist Signups - Now at 6.9K (+200 growth)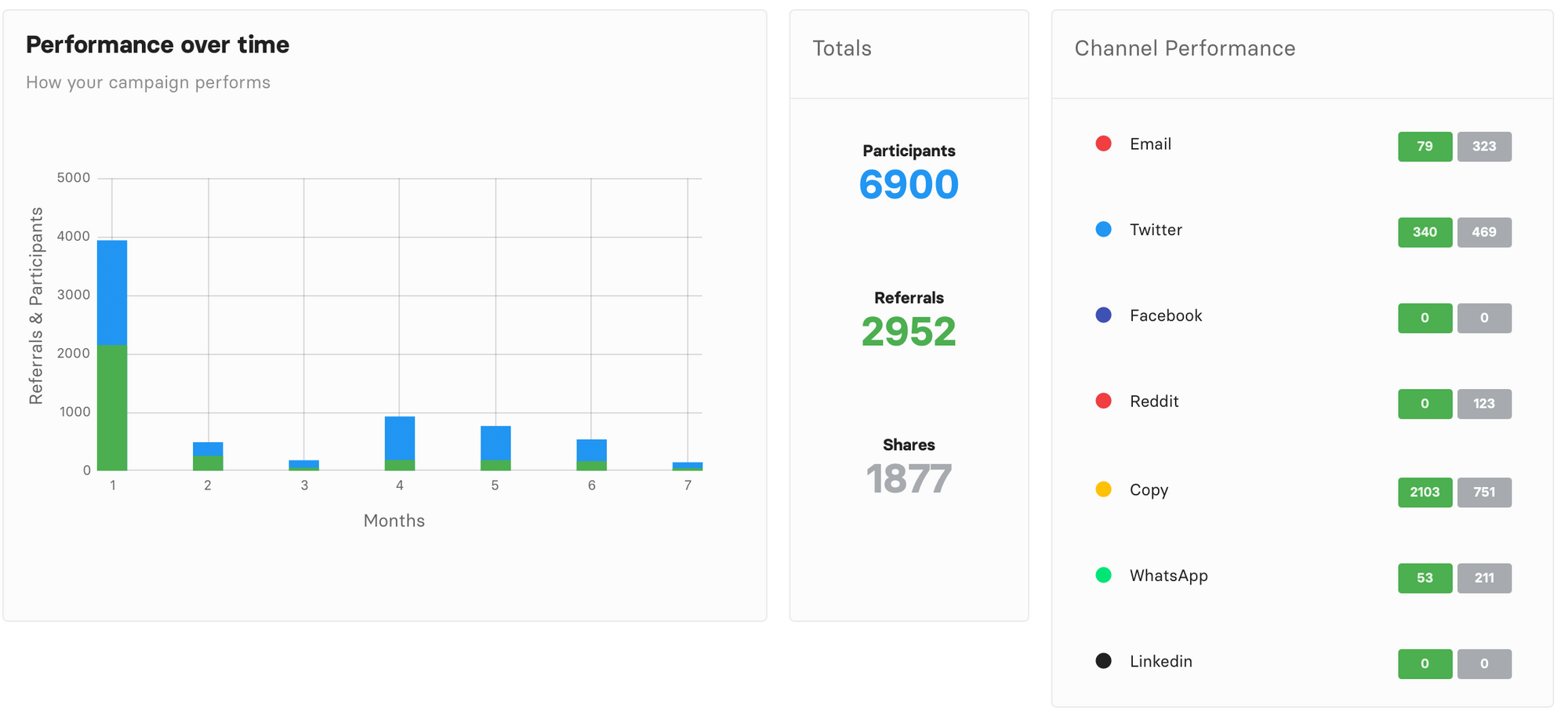 Growth of the waitlist was considerably slower than last month's +700 growth. Likely a result of reduced word of mouth and shoutouts than usual (many of our existing users waiting for recurring to launch at the moment). Also, our social media activity was less frequent this past month as a result of heads down focus on product currently.
As we move closer to launching recurring, I'm beginning to dedicate more time towards thinking through traction channels and distribution once again.
✨Highlights
Reminder of our initial target customer segment and their job to be done: privacy / custodial-wary retail Bitcoin holders looking to grow their Bitcoin wealth for the long term in a simple and transparent manner.
Reminder of what recurring strategies is:
"One click experience" that leverages backtesting: Recurring strategies that will leverage backtesting and historical data to create a one-click experience for our users, rather than forcing users to analyze markets themselves to make a decision on which option to choose. (Drawing inspiration from vault strategies like those on Ethereum)
Protected by downside protection: Includes stop losses / downside protection to cap the downside on their BTC and give users more peace of mind, unlike our current manual strategies which are technically unlimited loss.
For bullish market conditions: We're adding recurring strategies focussed on short puts in addition to covered calls to earn BTC yield since that is a more inherently bullish strategy that may better align with our user's bullish sentiments. We're planning to add recurring strategies catered to additional market conditions moving forward.
🎨 Product / Design & Backtesting
As part of our design efforts this past month, we focussed on three primary flows that were central to the functioning of recurring strategies.
No. #1: The "Assess/Enter Strategy" Flow: How does a user see performance details of the strategy and assess the risk / reward to see whether the recurring strategy is a good fit for them? How does a user enter the recurring strategy after they've assessed it?
Some of our considerations included:
Identifying the fine line between too much and too little information
As a result of how a recurring strategy works (by identifying options positions that make sense based on strict market criteria - that have proven historically to be profitable), often times, there may not be a position immediately available to enter for the user as part of the strategy. Hence, we had to think about what a user would do before said position becomes open for investment.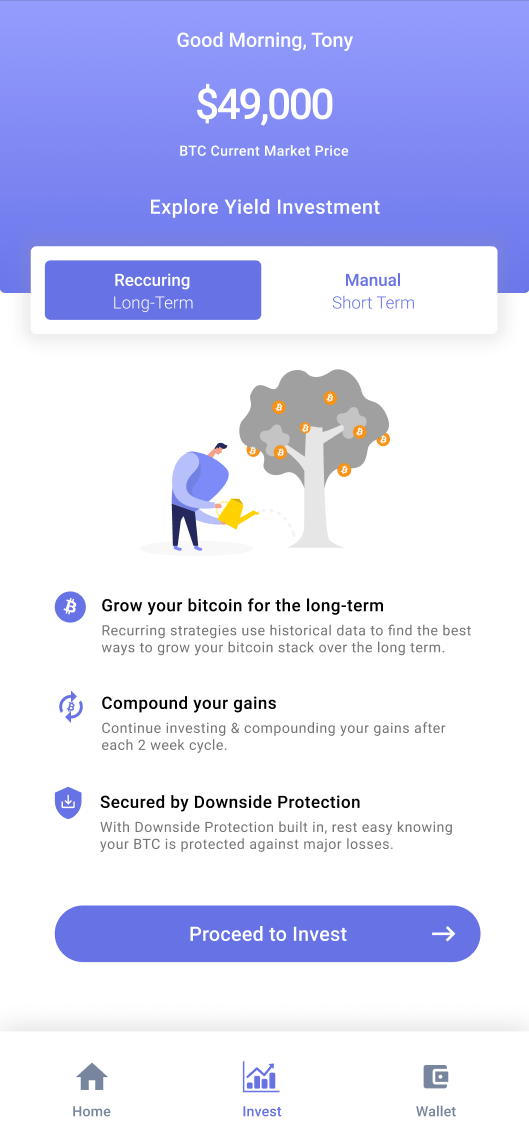 No. #2: The "Monitor" Flow: After successfully entering the strategy, how does a user monitor their strategy's performance?
We worked on developing a unified "home" screen to view all my investments, and see all of the most pertinent information related to the user's financial activity on Atomic.

No. #3: The "Roll over" Flow and the impact of the liveliness requirement in BTC:
One of the main differences between Atomic recurring strategies and adjacent vault protocols / products in ETH DeFi is that bitcoin has a liveliness requirement. This requires users to be live within the app and tap a button to roll over into a subsequent position after one position ends. How does this process happen? How can we make this process as simple as possible? How does a user increase / decrease their investment amount between cycles?
Pros vs cons: At first glance, ****this seemed like technical drawback - the need for the user to return on a regular basis over time, as it makes the process of investment more active. After further thought, we believe that if done well, we could in fact turn this into a long term competitive as we see it as a driver of continued engagement that the user has with the app over time.
Impact on backtesting + the triangle of tradeoffs: That being said, the liveliness requirement does create a set of new problems when it comes to the way we did our backtesting - it led to a triangle of tradeoffs where we had to identify a backtested strategy that had made an acceptable trade-off between the following three attributes: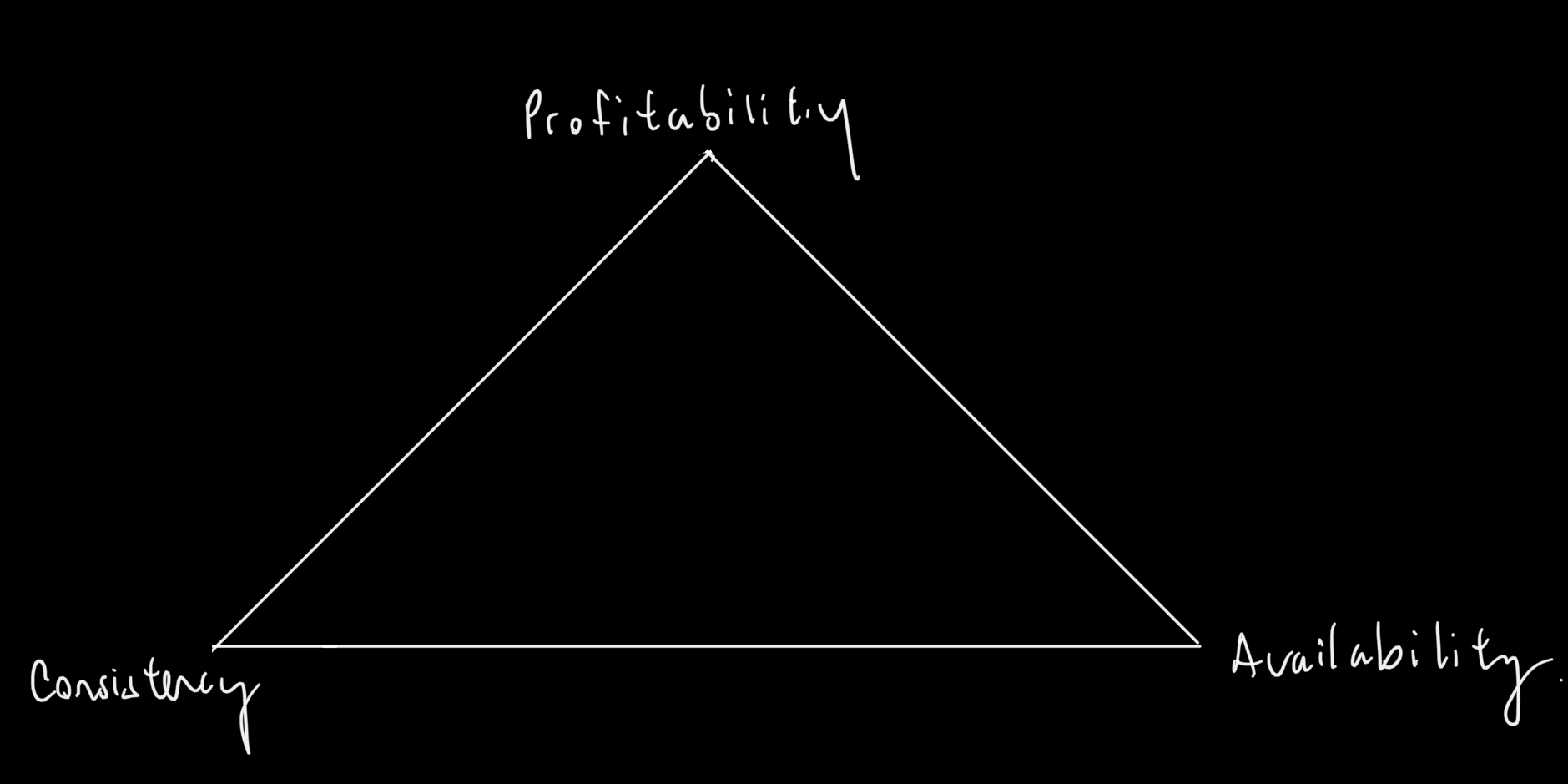 Profitability: This one is self-explanatory. A good backtested strategy must have proven to be profitable historically
Availability: This is the degree and frequency to which the recurring strategy actually selected an acceptable position for the user to enter. We want a backtested strategy that has high availability - which would mean fewer gaps in between positions.
Note: A low availability strategy would have large multi-month gaps between positions - meaning new users might have to wait months before finally investing their BTC
Consistency: This is the degree to which the positions that comprise the recurring strategy become available consistently on the same day of the week. By having them available consistently on the same day of the week, we hypothesize that it will be easier to build a habit for users to roll over.
Our Updated Release Timeline for Recurring Strategies
It will be a staged rollout for the foreseeable future
Closed beta - small + tight-knit (30-50 users / mid-October)
First test retention for recurring amongst existing users. Also add another 30 new users from our waitlist.
2. Expanded closed beta once we see signs of product market fit (let in hundreds at a time, allow MM capacity to grow gradually, start to test word-of-mouth hypothesis)
To test word-of-mouth hypothesis: give everyone 3 golden tokens that they can share with friends to jump the line.
During this phase, have chats with other larger market makers OR ensure that marketing making entity will continue to grow in capacity.
3. Free for all / open beta
To get here - need to see that users are being retained and are activating with ease.
PR launch
⚙️ Engineering
Recurring strategy backtesting, stop loss functionality, improved testing and oracle validation were the key focuses
Backtesting a variety of recurring strategies that could be suitable for users
Tested covered call and short put trading strategies using historical data as well as indicators
2. DLC Protocol improvements
Added new message type that allows for stop losses
Added oracle signature validation
3. Improved app testing for seed phrase and wallet functionality
📖 Content / Social
We've continued to emphasize transparency in our approach to content creation and community engagement.
Rolled out a lighter engagement piece discussing the Atomic team's favourite tools to buy and hold BTC
Transparency Thursday:
Continued ritual of having one member of the team upload a 1-2 minute video every week updating the community on the lasting happenings with the product and company
This has been effective in generating social media and Discord community engagement as well as sparking conversations and feedback amongst users to help us inform product development
🔮So what next? Full steam ahead on shipping recurring strategies
Our primary focus in the next month:
Continuing the nitty-gritty engineering, design, and product work to recurring strategies out
Engineering: Finishing front end implementations around recurring, last remaining tasks for stop loss infrustructure, updating notification infrustructure for recurring strategies
2. Onboarding existing users to recurring and capturing feedback
Product: Need to solidify how we'll onboard, interview scripts, and things to measure. Make concrete the primary assumptions we'll be testing.