Transparency is core to what we do at Atomic.Finance.
To that end, beginning this past June, we began to share publicly our monthly updates that we send to our investors and advisors. As always, if any of you have a new thought for us (it could be ideas, feedback), please give us a shout @AtomicFinance on Twitter! Thank you being on this journey with us to build #SoundFinance together. 💪
- Tony (CEO @ Atomic)
---
Email to Atomic Finance investors and advisors sent October 28, 2021
Recap from last month:
In last month's update, we discussed how it was a BUIDL sort of month, with the primary focus being a continuation of the design, engineering, and trading backtesting work to get everything ready for the launch of recurring strategies.
This month's TLDR:
This month has been a continuation from last month - with the largest focus being on engineering (both front-end and back-end). From the product and design side, there was also a focus on preparing for the onboardings and solidifying the primary qualitative and quantitative learning goals for this beta period.
In the last update I sent out a month back, we mentioned that we were approx 3 weeks out from onboarding first users for recurring. 4 weeks later as I'm writing this, we still are about 1 week away as we wrap up final touches for engineering and internal testing. This small delay is due to a couple of unforeseen issues that we've encountered on the engineering side and a few edge cases that we didn't account for from a design perspective.
In the next update, we'll be sure to have plenty of new learnings and user feedback to share from our first onboardings.
As a result of this being a BUIDL focused month, I'll keep this update short.
---
🙋🏻‍♂️Asks:
Do you have any feedback for the quantitative goals and KPI's we've set below?
Are you connected with crypto traders with backtesting experience? Or, do you know where we might be able to find one?
We're looking to bring onboard a trader to help us part-time with backtesting moving forward to develop additional recurring strategies for different market conditions.
---
📈Metrics / Waitlist Signups - Now at 7.2K (+300 growth)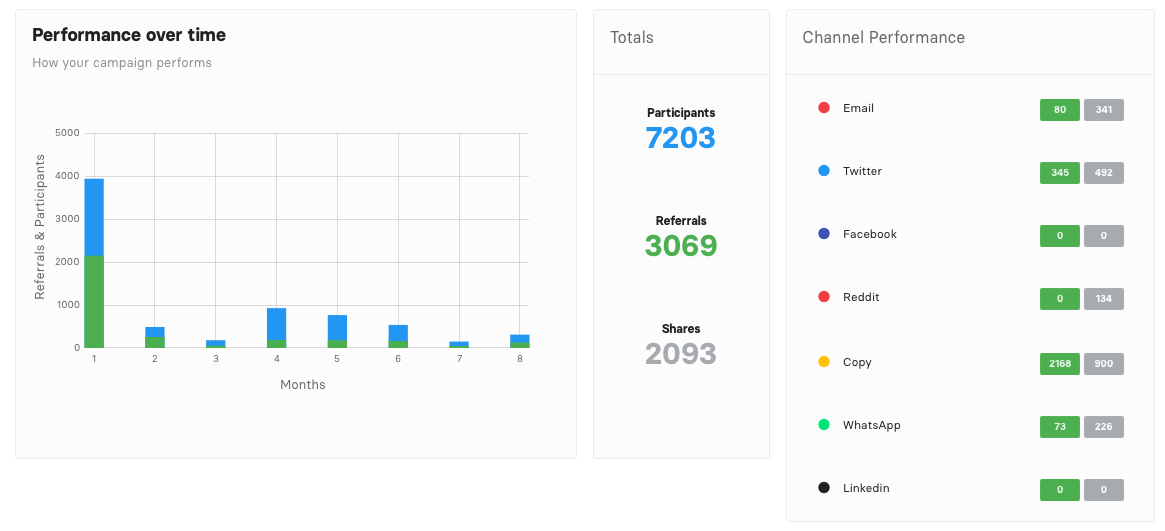 Growth of the waitlist continues to be on the slower side. Likely a result of reduced word of mouth and shoutouts than usual (many of our existing users waiting for recurring to launch at the moment). Also, our social media activity was less frequent this past month as a result of heads down focus on product currently.
As we move closer to launching recurring, I'm beginning to dedicate more time towards thinking through traction channels and distribution once again.
---
✨Quick Recap
Reminder of our initial target customer segment and their job to be done: privacy / custodial-wary retail Bitcoin holders looking to grow their Bitcoin wealth for the long term in a simple and transparent manner.
Reminder of what recurring strategies is:
Non-custodial "one click yield" that leverages backtesting: Recurring strategies that will leverage backtesting and historical data to create a one-click experience for our users, rather than forcing users to analyze markets themselves to make a decision on which option to choose. (Drawing inspiration from vault strategies like those on Ethereum)
Protected by downside protection: Includes stop losses / downside protection to cap the downside on their BTC and give users more peace of mind, unlike our current manual strategies which are technically unlimited loss.
For bullish market conditions: We're adding recurring strategies focussed on short puts in addition to covered calls to earn BTC yield since that is a more inherently bullish strategy that may better align with our user's bullish sentiments. We're planning to add recurring strategies catered to additional market conditions moving forward.
Release Timeline for Recurring Strategies
Closed beta - small + tight-knit (30-50 users / Early November)
First test retention for recurring amongst existing users. Also add another 30 new users from our waitlist.
Expanded closed beta once we see signs of product market fit (let in hundreds at a time, allow MM capacity to grow gradually, start to test word-of-mouth hypothesis)
Free for all / open beta
To get here - need to see that users are being retained and are activating with ease.
PR launch
---
⚙️ Engineering
Mobile app front-end: A major focus for us this past month was implementing the designs we discussed in our last update:
the flow for users to assess and enter the recurring strategy for the first time
the flow for users to roll over from one cycle to the next cycle in the recurring strategy
the flow for users to monitor their investments once a recurring strategy is active
An unexpected high number of edge cases we discovered in the design process that we have to account for during front-end implementation has prolonged the front-end development timeline to what it is currently.
Improved staging infrastructure (production engineering): This helps us improve redundancy and reduce downtime. This has been deployed to our testate version of the app and we'll be pushing this to mainnet soon.
DLC libraries: We've updated these to support put options, which are the basis for recurring strategies.
QA + ensuring everything works via internal testing: This week, the whole team is working on testing the app, going through the flows to identify bugs/issues so that the engineering team can tie up remaining loose ends.
---
🎨 Product / Design: Preparations for onboardings and closed beta
Team agreed on riskiest assumptions to test during closed beta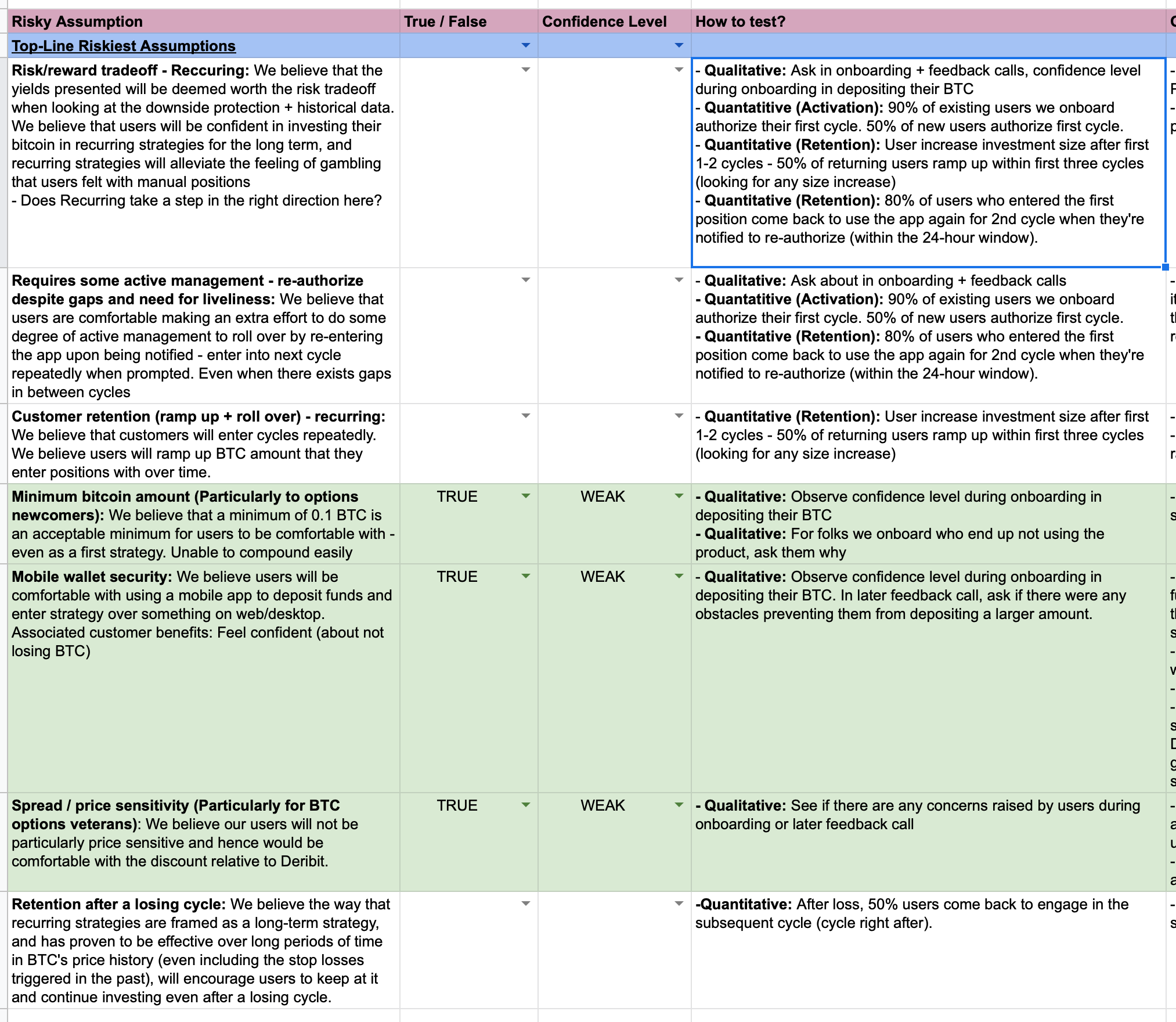 Team agreed on main quantitative KPI's for closed beta
After some discussion amongst the team, and getting some help from Katie (one of our product advisors), we agreed on the following quantitative KPI's we'd like to see from the closed beta: ****
Retention + increase in user confidence: Average Position size of the user increases after first 1-2 positions: 50% of returning users ramp up within first three cycles (looking for any size increase)
Have we increased users' confidence to the degree where we can expect greater BTC volume from them?
Retention (Have we managed to lower barrier to re-authorize + increase the frequency of usage?): 80% of users who entered the first position come back to use the app again for 2nd cycle when they're notified to re-authorize (within the 24-hour window).
Retention after a loss: After loss in a cycle, 50% users come back to engage in the subsequent cycle (cycle right after).
Activation (Have we made activation easier and accessible to more people?):
Existing Atomic.Finance users: 90% of existing users who we onboard - deposit BTC and authorize first cycle
New Atomic.Finance users: 50% of new users we onboard pre-deposit, 60% of new users we onboard authorize first cycle
Increase in user confidence over v1 manual strategies: 50% of users who previously used manual strategies will be comfortable depositing a larger amount (any amount) via recurring strategies within first two cycles (as compared to manual positions)
Within the updates I provide in the coming months, I'll report back on these KPI's and whether we're on track to hit them or not. If we're not, we'll work hard to find out the reasons by talking to our customers.
What about qualitative learning goals? That's where our onboarding script comes in.
During our onboarding, we'll be taking a contextual inquiry approach. As the user is going through the flow, Abhi (our designer) and I will mostly stay silent, observing what the user does, cutting in only when we're confused by something the user did.
We'll make note of usability concerns and questions that users have during the process.
We've also prepared a number of questions to ask the users at the end of the onboarding, such as:
their comfort level going through the flow
biggest concerns and obstacles going through the flow
etc.
---
📖 Content / Social
FAQ - This past month, we began work on an FAQ to cover the main questions we heard when doing the feature stub test.
Bi-monthly newsletter - We've continued to send a bi-monthly newsletter to everyone on our waitlist consisting of the main updates and new content we've put out

---
🔮 So what next? A bit more internal testing and then onboardings!
Our primary focus in the next month:
Testing: Additional Internal Testing to identify bugs before onboardings (next week or so)
Onboarding and learning: existing users to recurring and capturing feedback. Identify patterns. Track progress towards KPI's
Engineering:
Work on the market making bot to make sure everything will be ready to transfer counterparty duties to the MM entity.
Bug squashing: In the event where bugs / issues arise, engineers will be on call to fix them