Transparency is core to what we do at Atomic.Finance.
It was large driving force behind why we started the company in the first place. In our eyes, opaque and centralized financial infrastructure cannot possibly be considered sound. And sound money deserves sound financial infrastructure. Transparency is crucial to making that happen.
But recently, what we've come to realize is – transparency is a value that should not only guide how we build our product, but also how we build our company. It's a value that should govern not just how we communicate with our investors and across our team, but also with our users, and the wider Bitcoin community.
They are just as much a stakeholder within our company than anyone else.
To that end, beginning this month, we want to share publicly our monthly updates that we send to our investors.
This is a brand new initiative for us, so if you have any comments, feedback, or suggestions, let us know in our Telegram group or tweet at us @AtomicFinance.
---
Note: This email update was sent out our investors and advisors on Friday, Oct 9.
TLDR:
We started the month with just an idea of what we wanted to build in our first product (Atomic Odds for P2P betting) under the new BTC-centric direction.
We ended the month with 2 iteration cycles – having completed prototype + MVP testing with evangelist customers — including major Bitcoin influencers such as Jimmy Song, Pierre Rochard, Jason Williams, CK. We expect all of them to be users of Atomic Odds out of the gate at public launch.
We're now 1-2 weeks away from publicly shipping Atomic Odds — which is when the fun + learning will really kick off.
Another important highlight of the month has been informing our community and user-base about our pivot over to a Bitcoin-centric approach moving forward. We have received an overwhelming amount of support for the decision (with a few exceptions of course). Our vision and messaging seem to have struck a nerve and really resonated with large numbers of the Bitcoin community.
And of course, we've rebranded from Atomic Loans to Atomic.Finance - with a new logo and Atomic Odds landing page to boot.
The team has been working incredibly hard to help us make the progress that we did. And we can't wait to get Atomic Odds in people's hands ASAP so we can get learnin'!
---
Some numbers for Atomic Odds
Early access email signups: 199 within the past two weeks
4 influencer launch partners
Finances:
Highlights
Team:
We're psyched to transition our Product Designer Abhimanyu Kapoor to a full-time role with the team
We brought Abhi onboard on a contract-to-hire basis back in July and we've been grateful to have him.
Relentlessly pushing us to learn more efficiently from customers, challenging us to get out of our comfort zone in design, Abhi has dramatically improved the way we build and design products at Atomic.
Keep up the great work Abhi! 🚀
Our Pivot to Bitcoin-Native Finance - Feedback and Reception: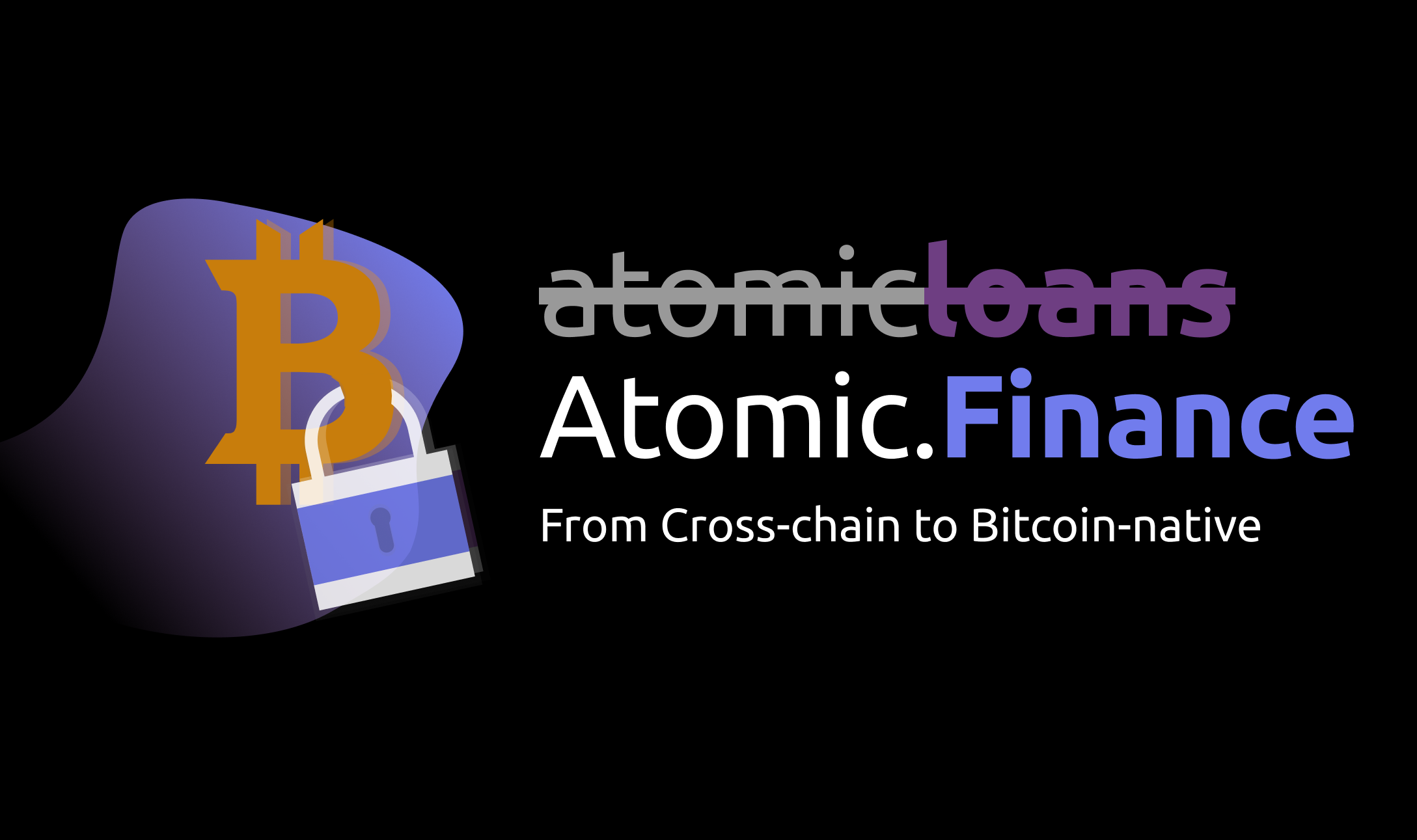 This past week, we finally shared publicly news of our rebrand from Atomic Loans to Atomic.Finance.
The messaging of "Building sound financial infrastructure for sound money" seemed to resonate well with members of the community
Feedback from community members and the Bitcoin community has been overwhelmingly positive. Understandably, some members of the ETH community were dismayed but I think overall, I was pleased with the reception we had.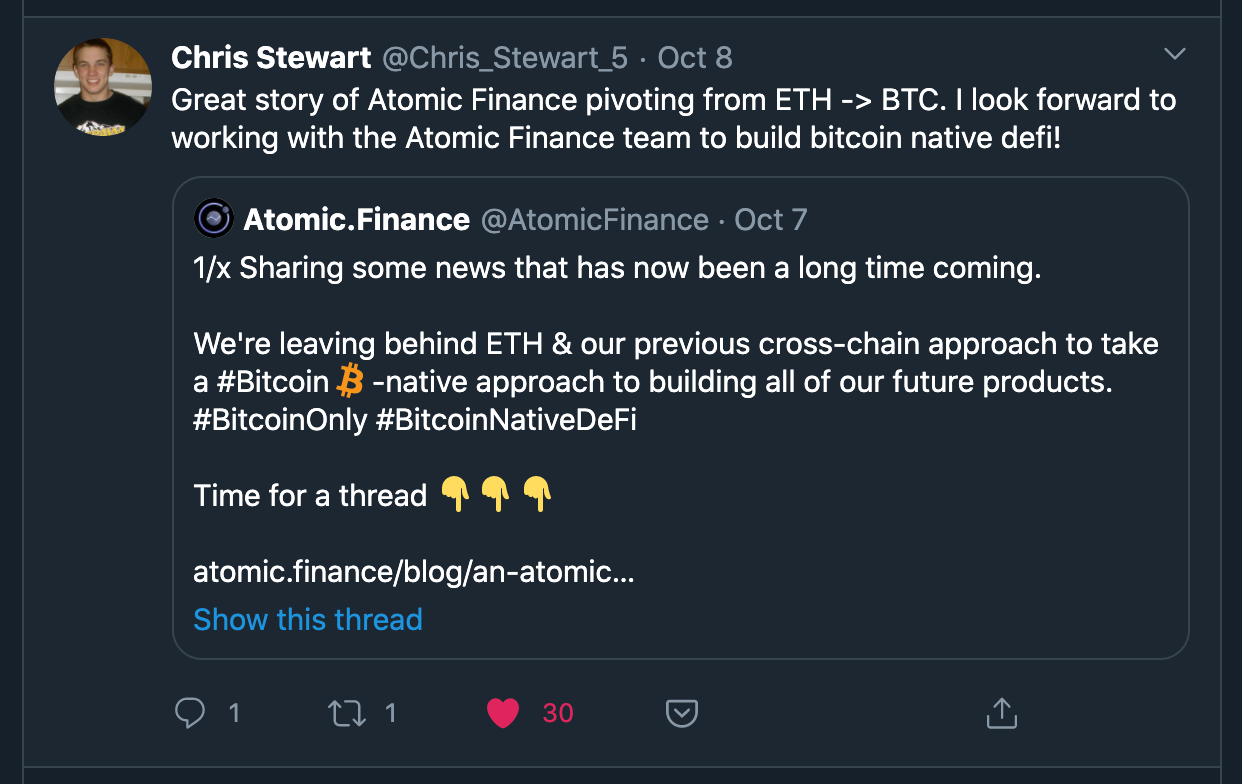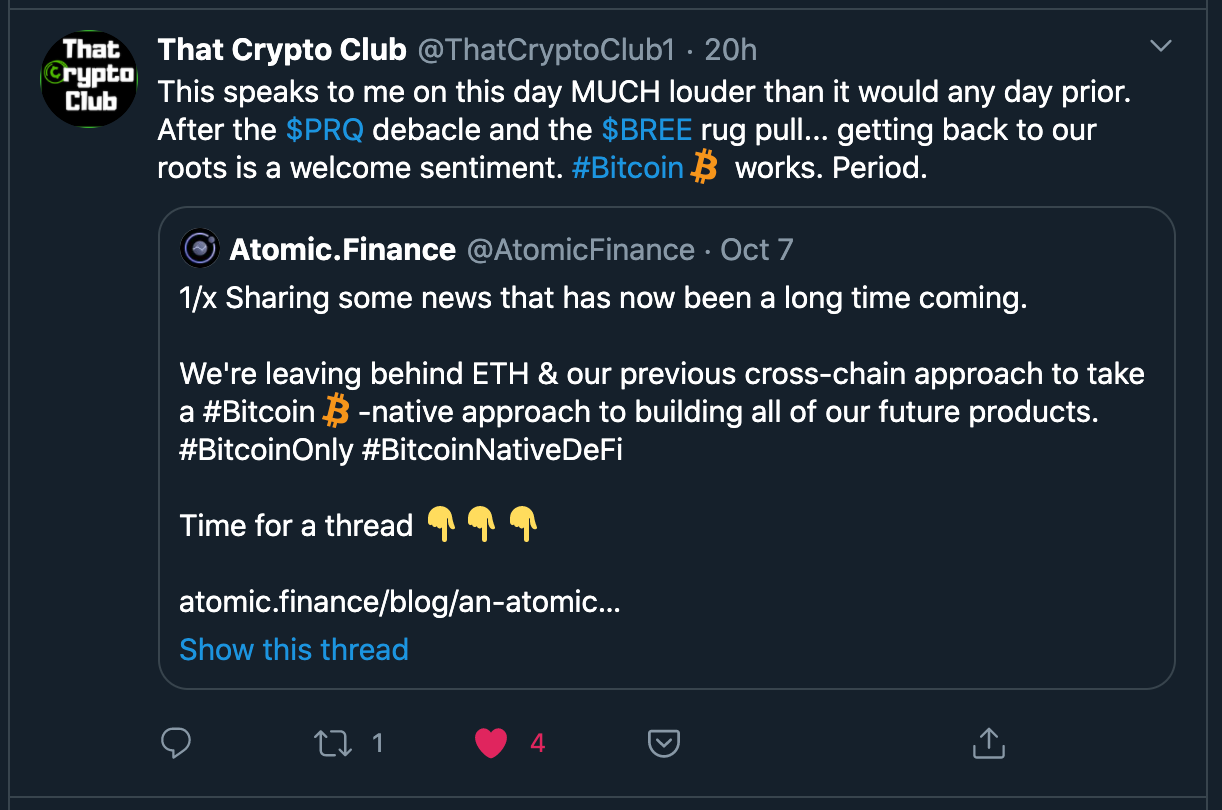 Product & Learnings (Atomic Odds):
Feedback from early users through beta testing has allowed us to iterate on the UI/UX and flow a tremendous amount!
We will be launching with an influencer-centric approach, where our 4 influencers will have a number of bet offers ready to go at launch. Anyone will be able to reciprocate to those bet offers!
At launch, there will be two main types of bets:
Users will be able to bet on crypto spaces (eg. whether BTC / ETH / [insert coin here] will be above or below X price at Y date).
2. Users can bet on the US presidential election
We're now 1-2 weeks away from publicly shipping Atomic Odds — which is when the fun + learning will really kick-off. Final closed beta testing will take place next week.
Screenshots: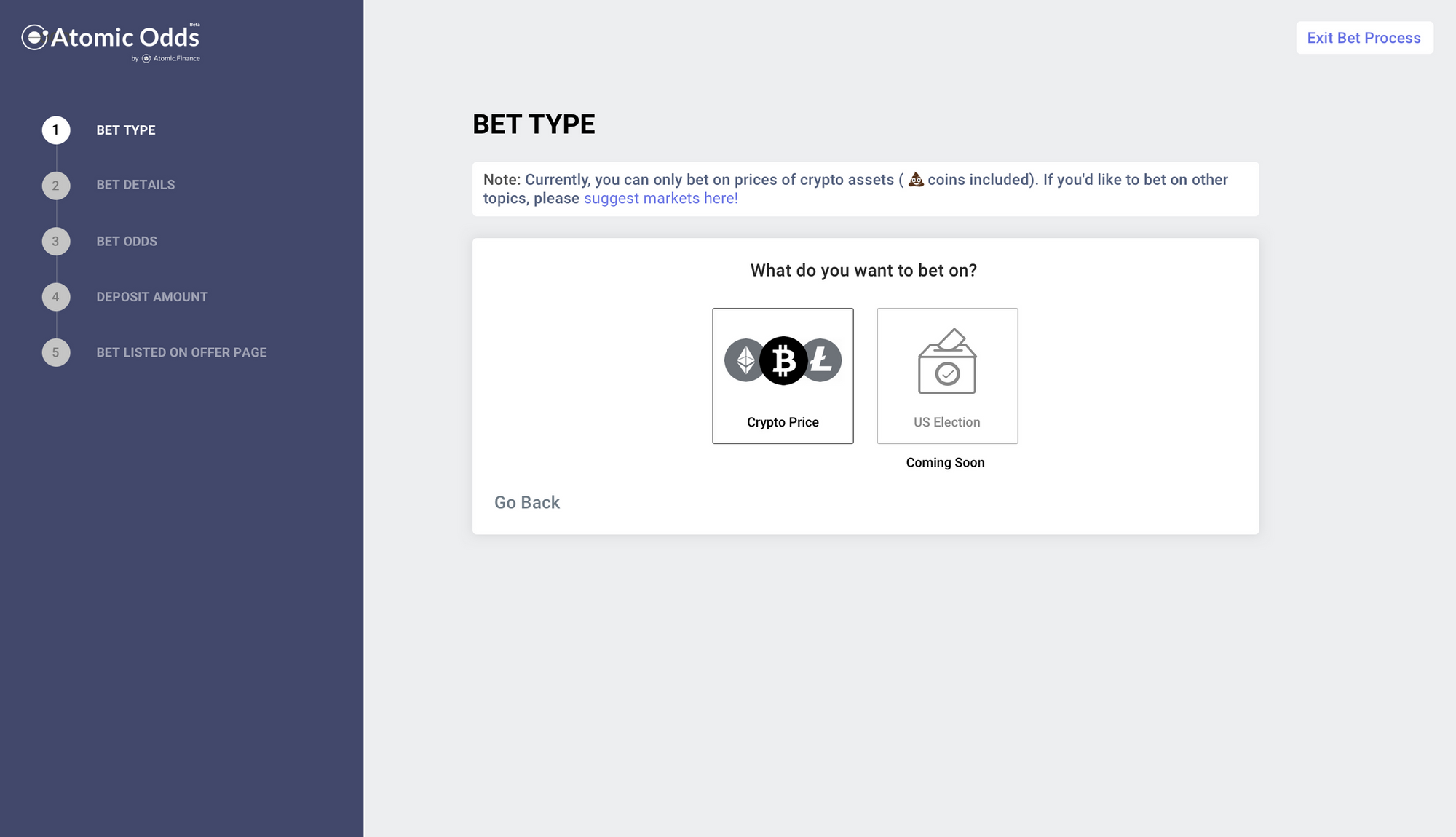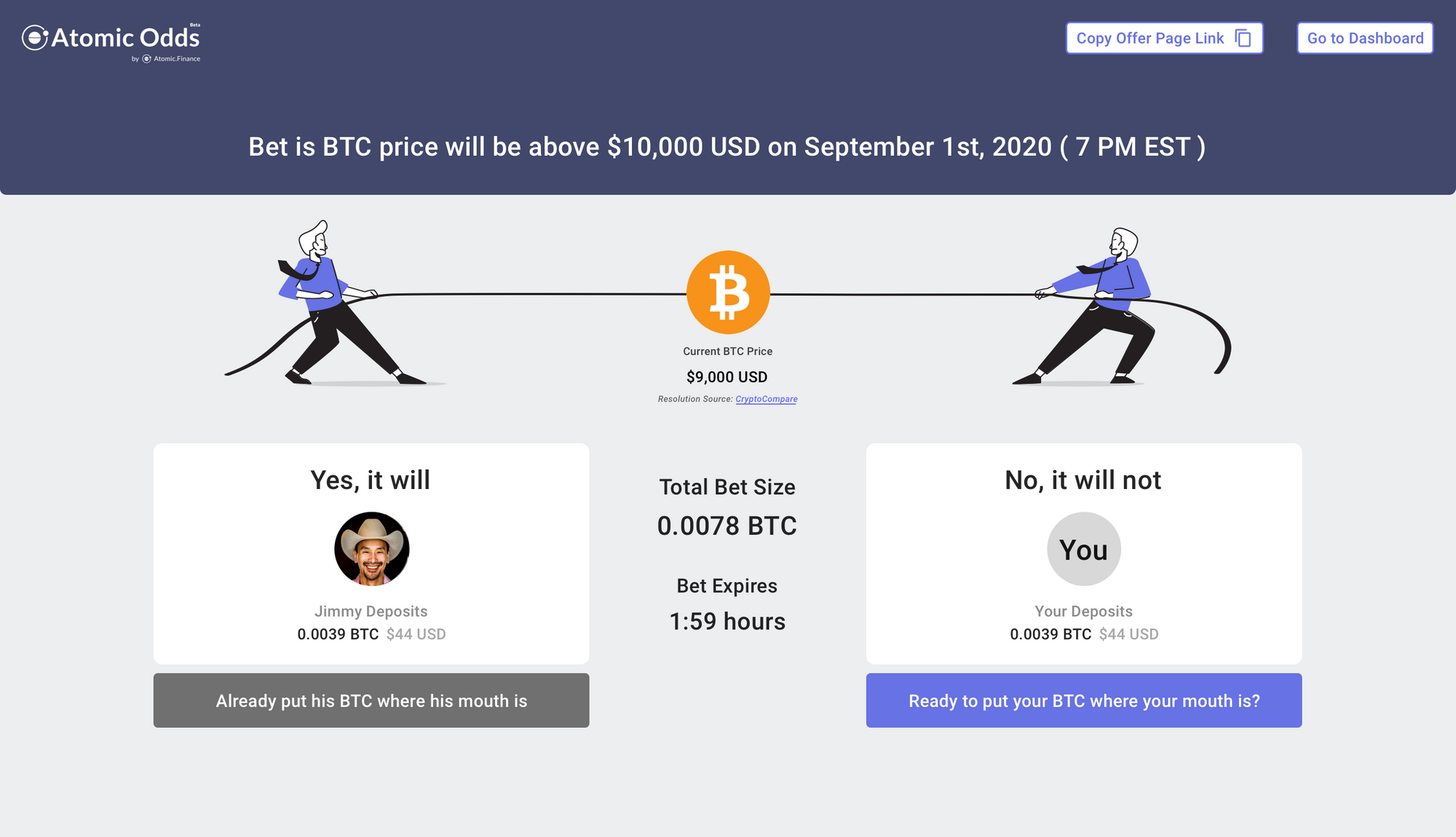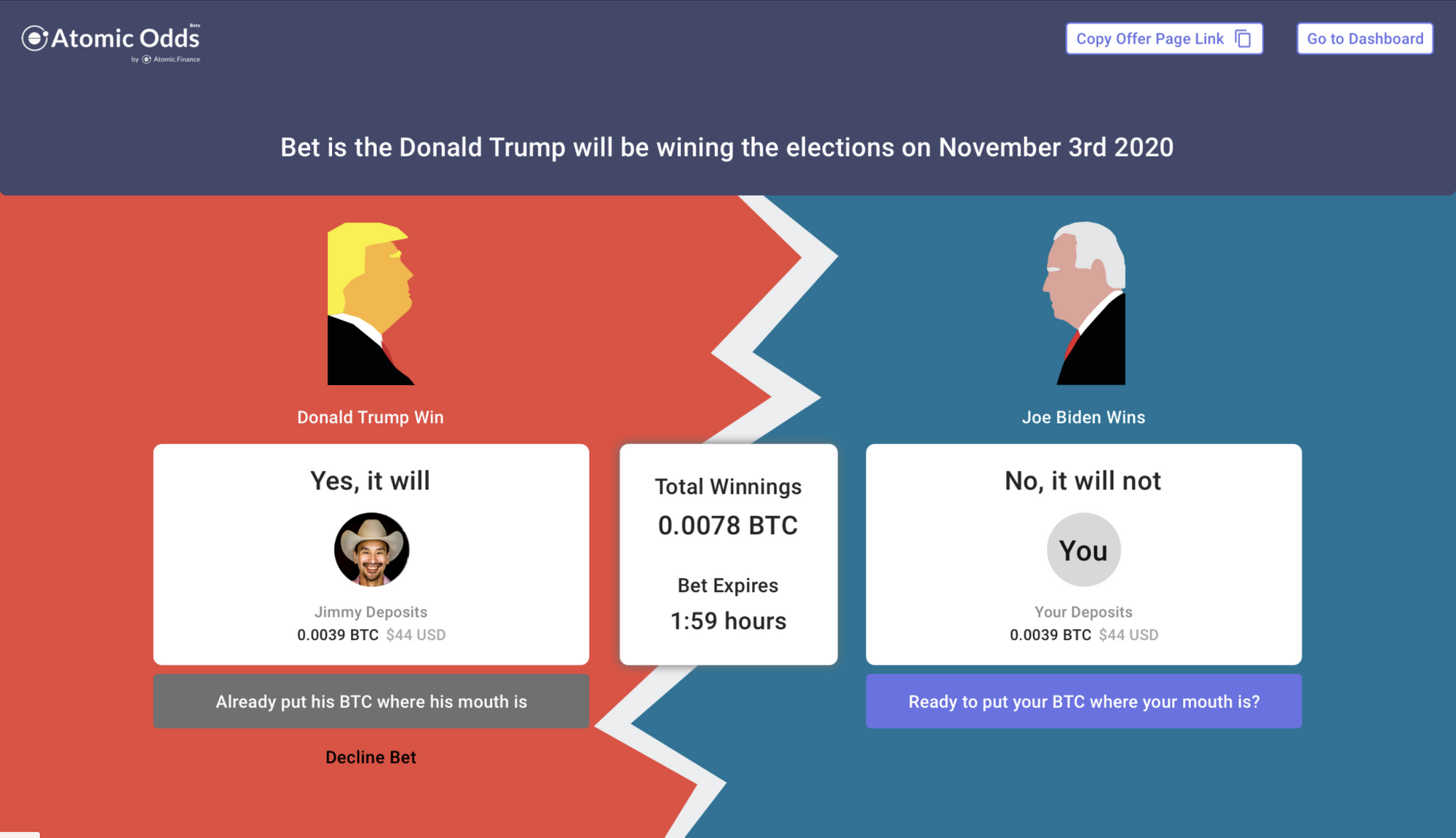 What's next?
Getting Atomic Odds shipped.
Talking with users to learn post-launch.
Asks:
Help us spread the word when we publicly launch Atomic Odds!
2. Interested in giving us UX/Product feedback on Atomic Odds? Hit us up!
3. Know any Bitcoiners / Bitcoin holders who might be interested in betting on the election or crypto price? Let them know about Atomic Odds.
4. If you have an eye for UI/UX, we'd love your feedback on the latest Atomic Odds flow so far.
What does Atomic.Finance do again?
Atomic.Finance is working on building Bitcoin-native financial tools that shares as many of the assurances as Bitcoin — being verifiable, pseudo-anonymous, borderless, censorship- and seizure-resistant. We want to build sound financial infrastructure for sound money.
Under this new direction, our first product is Atomic Odds - a product for P2P Bitcoin-settled betting.