Transparency is core to what we do at Atomic.Finance.
To that end, beginning this past June, we began to share publicly our monthly updates that we send to our investors and advisors. As always, if any of you have a new thought for us (it could be ideas, feedback), please give us a shout @AtomicFinance on Twitter! Thank you being on this journey with us to build #SoundFinance together. 💪
- Tony (CEO @ Atomic)
---
Email to Atomic Finance investors and advisors sent May 17, 2022
Recap from January / February:
In the last update, I discussed our January and February where:
After a strong start in Nov / Dec, we started seeing some worrying signs around the high amount of downtime for the current short put strategy.
Downtime a concern: We heard that the abundance of downtime was probably the biggest complaint from our users as it meant that their Bitcoin was just sitting there not doing anything.
Importance of developing more strategies: We decided that likely the most important upcoming product focus was to develop additional + robust strategies that users can enter into and diversify risk across.
Hiring a quant: We mentioned that we were just beginning the hiring process for our quant researcher to begin work on these upcoming strategies.
Subscription-style DLC's breakthrough: We discussed how we made an R+D breakthrough allowing for DLC improvements that would greatly improve UI/UX. We call these Subscription-style DLC's as they allow us to:
greatly reduce the frequency at which users have to return to the app to roll over to the next cycle (Users can "subscribe" the strategy for 1-2 months, during which the strategy can enter into various positions in the background)
greatly improve the flexibility of the types of backtested strategies we can explore (rather than just one cycle/position every 2 weeks, strategy can now consist of much more frequent and shorter cycles)
---
This month's TLDR
📊 Updates on recurring strategy performance:
From the beginning of March to present, there has just been one two-week cycles for the Conservative Short Put recurring strategy found:
March 18 - Apr 1st: +0.8% gain
This means that since the beginning of the year, there has only been a total of 3 two-week cycles found, with one of those cycles resulting in downside protection being triggered
Quantitative insights:
Likely due to the extensive downtime (leading to a degree of time-based churn) as well as the fact that the cycle directly before resulted in downside protection being triggered, we saw the BTC invested amongst 25 users decrease from 15 BTC to 7.4 BTC in the most recent cycle
Qualitative insights:
Customer conversations: From customer conversations we conducted, the primary source of concern revolves around high levels of downtime of the current strategy**: I**t makes them feel that their Bitcoin was just sitting there not doing anything.
Some customers mentioned they have withdrawn some of their BTC from the Atomic.Finance wallet due to this reason.
We've since done some investigation as to the reason behind this downtime, and have communicated the reasoning behind this downtime in a Transparency Tuesday video below.
👥 Team
Warm welcome to Anon Quant, joining us as our first Quantitative Researcher and Developer
We've closed our quant hire - but his name's not actually Anon Quant 😉. Out of respect for his current employer, we'll share more about him in our next update
His background + expertise in software development, quant research + specifically options quant research was the perfect mix for us!
He has just began part-time with us, and will be joining us full time at the beginning of June.
We'll be flying him in first week of June for his official onboarding.
Kudos to Joe and Randy (our options and quant trading advisors) for their active involvement during the interview process
Warm welcome to Randy Chen, joining us as a Quantitative Trading Advisor from San Francisco
Kudos to Shawn Cheng from ConsenSys, who made the connection and introduced us to Randy!
Randy brings 17 years of quantitative trading experience and expertise, having experience as a quant researcher with MGNR in the crypto space.
Previous to that, he specialized in high frequency trading , previously working as a Head of Algo Trading and Head Trader at various prop trading firms.
🎨 Product:
Overall takeaway: Our team's overall takeaway from our customers continues to be that their concerns and criticisms around the experience centre primarily on the strategy and its performance itself as opposed to the product concept. It became clear that strategy development from our customer feedback is our largest bottleneck before being able to scale and grow.
Current product focus - design work for transitioning to Subscription-style DLC's
We're working on streamlining the onboarding and roll over process within the UI/UX as part of our work transitioning to Subscription-style DLC's
We're super excited to implement these improvements as we believe they'll lead to dramatic improvements in reducing friction for our users.
🤖 Engineering:
Speed up development processes and ridding of tech debt
building internal tools for speeding up developer workflow
2. Reducing costs for Google Cloud
Halving our Cloud spend from 5K to 2.5K
3. Current engineering focus: Transition over to Subscription-style DLC's
Setting up oracle service for testing
Market making MVP infrastructure buildout
Small front end changes to accommodate subscription-style DLC's after design process is done
📈 Quant Trading / Strategy Development
Working on scoping out initial roadmap for our quant to build out MVP backtesting framework and his first strategy
Since our quant has recently joined us part-time, we've been working hard on getting him up to speed about what has been happening with the strategy so far, what improvements users and us are looking for, goals / constraints for the upcoming strategy we develop
Next step is to work together and align on a strategy development playbook that we'll be following to develop our upcoming strategies, finalize the architecture of the backtesting framework, and scope out the implementation plan for the backtesting framework
🤝 Business Development / Market Making
Solid gameplan identified for market making Subscription-style DLC's AND for scaling up liquidity (with the help of Paradigm)
We had a number of chats with some prominent options / DeFi market makers in the space → trying to get a better understanding of how their operations worked and how they work with projects
These conversations helped us learn how to streamline our current market making process and how Calypso (offshore market making entity) can leverage Paradigm (an institutional options block trading platform) to perform market making for users even with the new Subscription-style DLC's.
📢 Growth / Marketing / Community
Tony at SXSW
On stage with Pomp / Alyse / Dan Held for a Bitcoin DeFi panel
Team at Bitcoin Miami: hosted Meet and Greet for Atomic users in person & Tony on stage for DLC panel
Meet and Greet: We got a chance to meet a few of our users IRL! We hosted a meet and greet at a Miami bar and handed out t-shirts!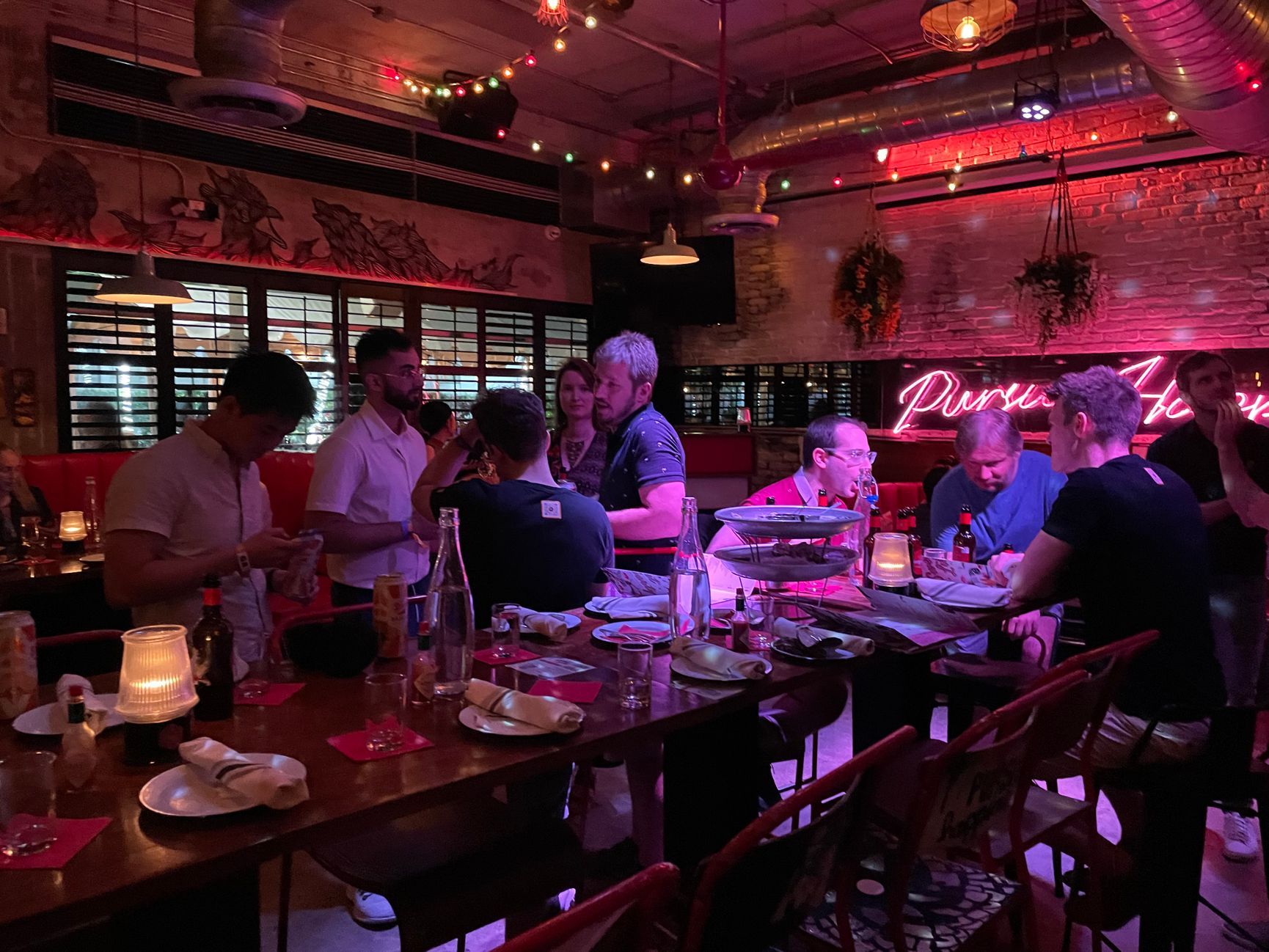 ---
🙋🏻‍♂️Asks:
No asks this month!
📈Metrics
Note: Numbers DO NOT include app usage activity from team / advisors
Recurring Strategies
Total value locked at peak: 15.5 BTC across 24 users (Up from 5.7 BTC across 26 users last update at Dec)
Total value locked most recent cycle: 7.4 BTC (Down from 15.5)
Waitlist Signups - Now at 8.9K (+800 growth)
Growth of the waitlist continues happen at a healthy clip, but slower than when we rolled out the landing page initially. Likely a result of reduced word of mouth and shoutouts than usual (many of our existing users waiting for recurring to launch at the moment). Also, our social media activity was less frequent this past month as a result of heads down focus on product currently.
---
🎨 Product / Design - Additional Updates
These updates expand upon the details in the TLDR above.
Audit of the Strategy: Why has there been so much downtime?
High degree of downtime
Perhaps one of the biggest complaints users have been sending our way about the strategy (on par with the losses they actually suffered) is the large amount of downtime / gaps that has been experienced in live trading since launch.
The interesting thing was - we were getting suitable trades for the strategy every single Friday when we first started. But the pace has really slowed down in recent months. I did some digging into why this was the case and found that it likely has to do with the lower volatility the BTC market is in generally (now compared to November when we launched). In a low volatility situation, this leads to a situation where: for each jump in the strike price increment (going from strike price of 34K to 35K), there's a larger difference in delta between those two strike prices. Making it generally less likely for there to be a strike within the delta range we're looking for (-0.124 and -0.126)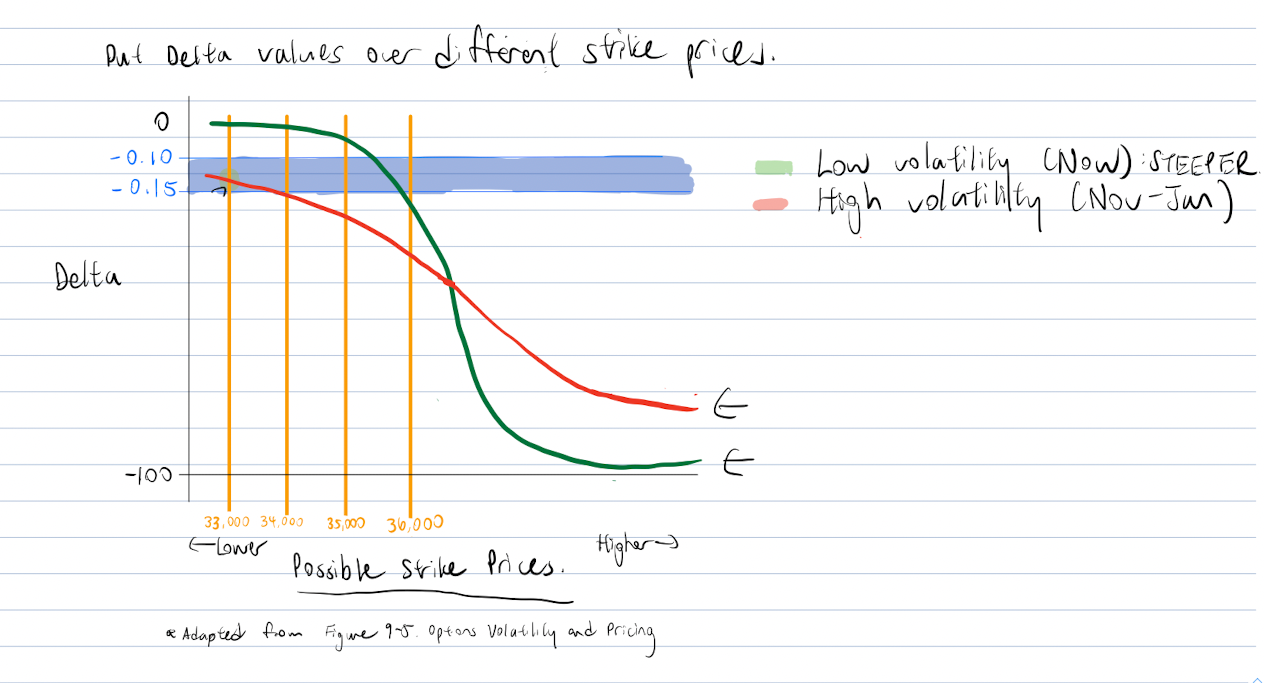 I made a Transparency Tuesday video on this.
Upcoming Strategy Development - Our Plans and Goals
Goals: Together with Joe and our quant, after reviewing customer feedback, we've devised the following goals for our strategy development:
APY: 10%+ APY. Remember: our users only care about earning in BTC terms, not USD.
Max drawdown threshold: Half of historical APY
Greater than 1 trade every 28 days!
Bi-directionality / market neutrality: Is there a way to incorporate bi-directionality / maintain market neutrality into strategies we develop?
Can we reduce the risk relative to the reward? Eliminate stairs up, elevator down phenomenon and balance risk / reward a bit more to ensure risk commensurate with the potential reward (Perhaps target lower win, and trade with smaller potential loss relative to a win)
Let's make sure we don't have crazy gaps and downtime like before!
We'll be initially focussed on strategies that involve spreads only → namely vertical spreads, condors, butterflies
These types of options positions have truly capped downside, but also a capped upside.
These characteristics make them suitable positions to start with as it provides for a truly capped loss for our users, something many users have asked for. These positions also minimize engineering buildout as the capped upside and downside make it no longer necessary to include stop losses and take profits → allowing each open position to be carried to expiry without adjustments.
ie. Vertical spreads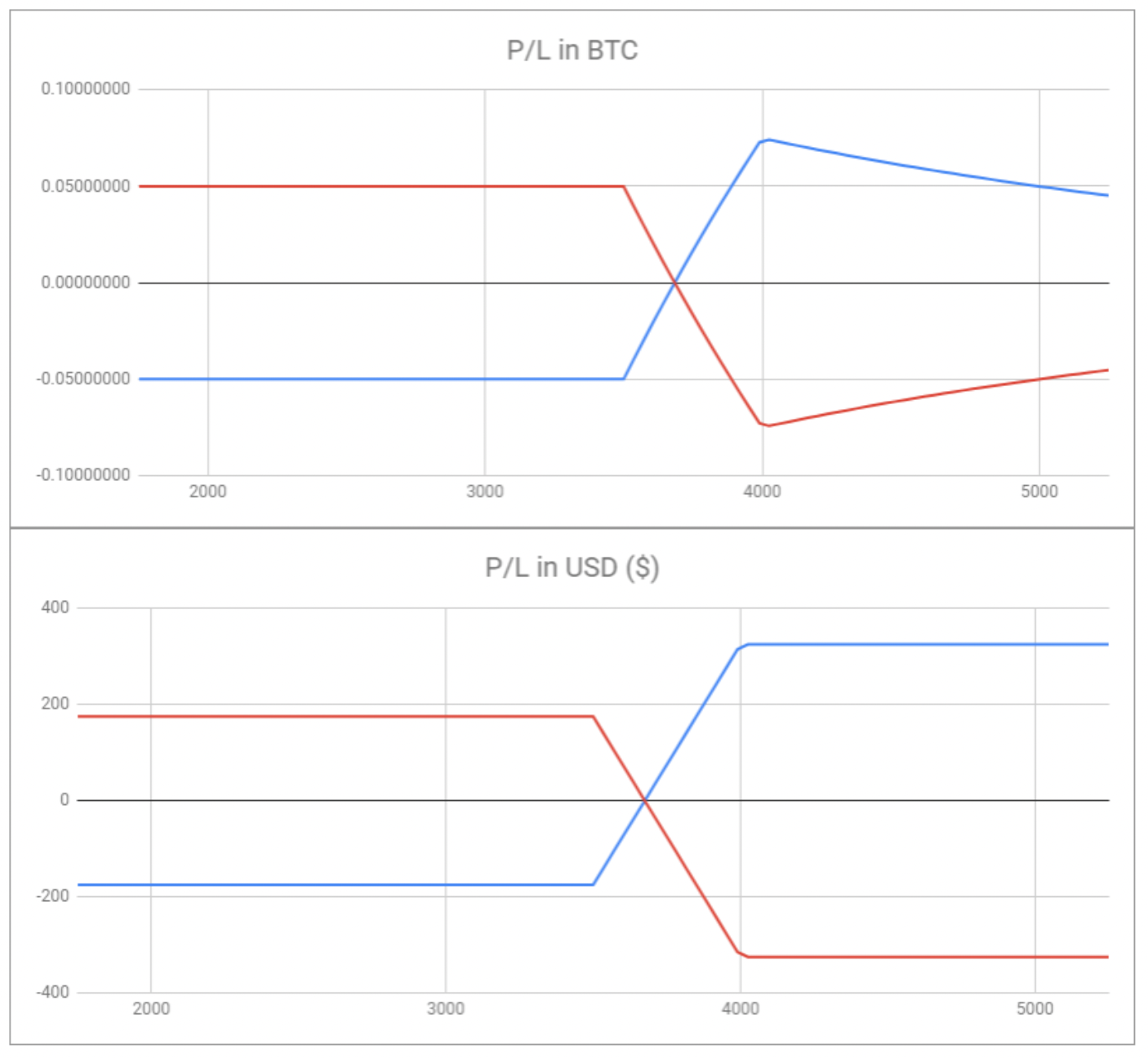 ie. Condors