Transparency is core to what we do at Atomic.Finance.
To that end, beginning in June, we began to share publicly our monthly updates that we send to our investors and advisors. As always, if any of you have a new thought for us (it could be ideas, feedback), please give us a shout @AtomicFinance on Twitter! Thank you being on this journey with us to build #SoundFinance together. 💪
- Tony (CEO @ Atomic)
---
Email to Atomic Finance investors and advisors sent August 26, 2021
Recap from last month:
In last month's update, I discussed our early learnings & concerns from our first users, and how the team was working on early validation of a feature called recurring strategies that we think addresses some of our users' biggest concerns. Our hunch was that it would perform our users' job-to-be-done of growing their BTC wealth for the long term to a much better degree.
This month's TLDR:
This month, I'm happy to report that we received very positive early feedback from users on recurring strategies during our "feature stub" experiment, which we put together in the span of half a week. Users mentioned that this new feature does solve many of their concerns and a number of them were attempting to deposit significantly larger amounts of BTC into the feature.
Many of them were disappointed to hear that the feature wasn't live just yet.
Since hearing and seeing this, the team has been hard at which working on the design, engineering, and trading backtesting work needed to ship this feature. We're looking to roll recurring features out by the end of September if things go according to plan.
In the meantime, further onboarding of users into the product have been paused until recurring strategies is launched.
Other important notes:
Closed beta stats (does not include friends and family that have been onboarded):
# users onboarded: 28 users, 21 of which have entered a position
# users continuing to roll over currently - 6 users, out of 20 that have completed their first position (⬇️ from 8 users rolling over last month)
8 active positions, with 3.4 BTC locked (⬇️ from 14 active positions - 5.7 BTC locked)
43 expired positions (⬆️ from 16 last month)
# of positions expired in the money vs out of the money: 9 ITM and 34 OTM
Breakdown of risk levels: 38 low Risk, 25 Medium Risk, 10 high Risk
---
🙋🏻‍♂️Asks:
None this month!
📈Metrics / Waitlist Signups - Now at 6.7K (+700 growth)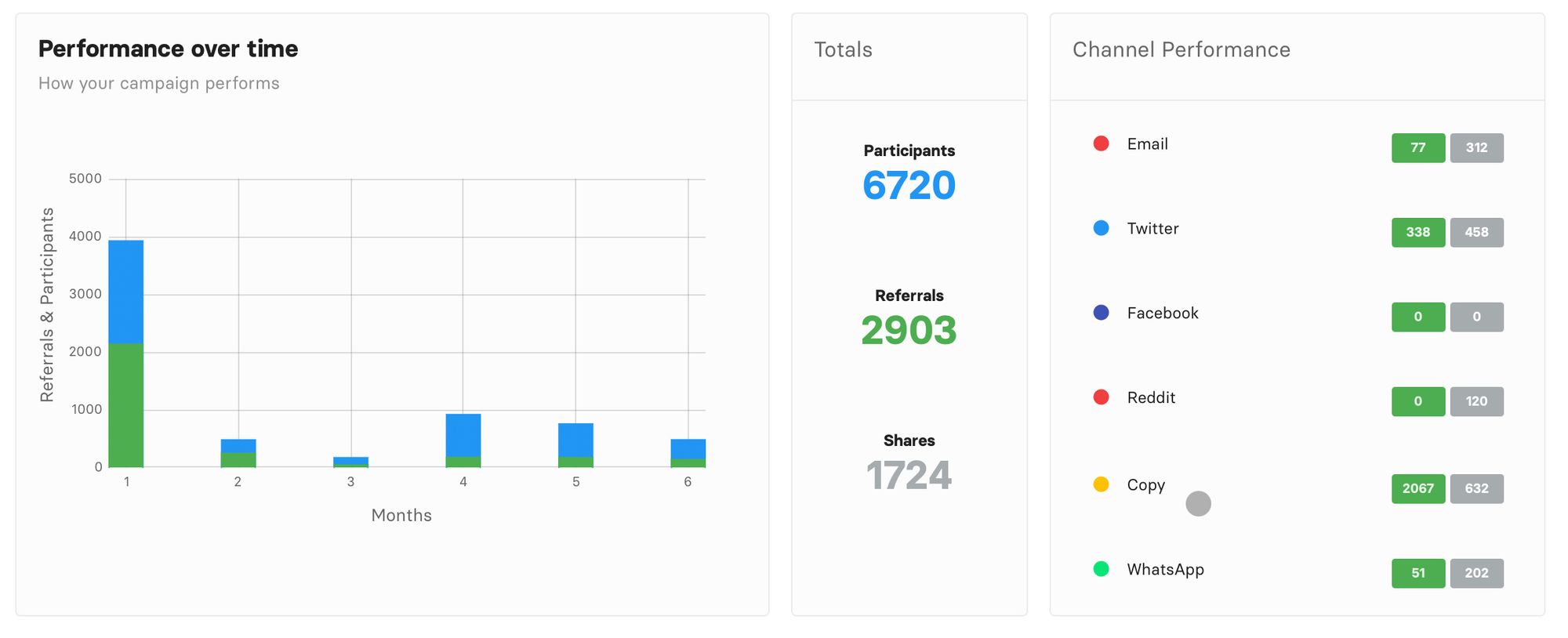 Growth of the waitlist continued to good this month, though slower than last month's 1K growth - growing 1K from 5K to now over 6K in the past month. Some of this growth can likely be attributed to our increased push for transparency across our social and content channels.
We continue to get positive shoutouts from our closed beta users and others on the waitlist on Twitter
✨Highlights
Reminder of our initial target customer segment and their job to be done: privacy / custodial-wary retail Bitcoin holders looking to grow their Bitcoin wealth for the long term in a simple and transparent manner.
Reminder of what recurring strategies is:
"One click experience" that leverages backtesting: Recurring strategies that will leverage backtesting and historical data to create a one-click experience for our users, rather than forcing users to analyze markets themselves to make a decision on which option to choose. (Drawing inspiration from vault strategies like those on Ethereum)
Protected by downside protection: Includes stop losses / downside protectionto cap the downside on their BTC and give users more peace of mind, unlike our current manual strategies which are technically unlimited loss.
For different market conditions: We're adding recurring strategies focussed on short puts in addition to covered calls to earn BTC yield since that is a more inherently bullish strategy that may better align with our user's bullish sentiments.
A few screenshots of recurring strategies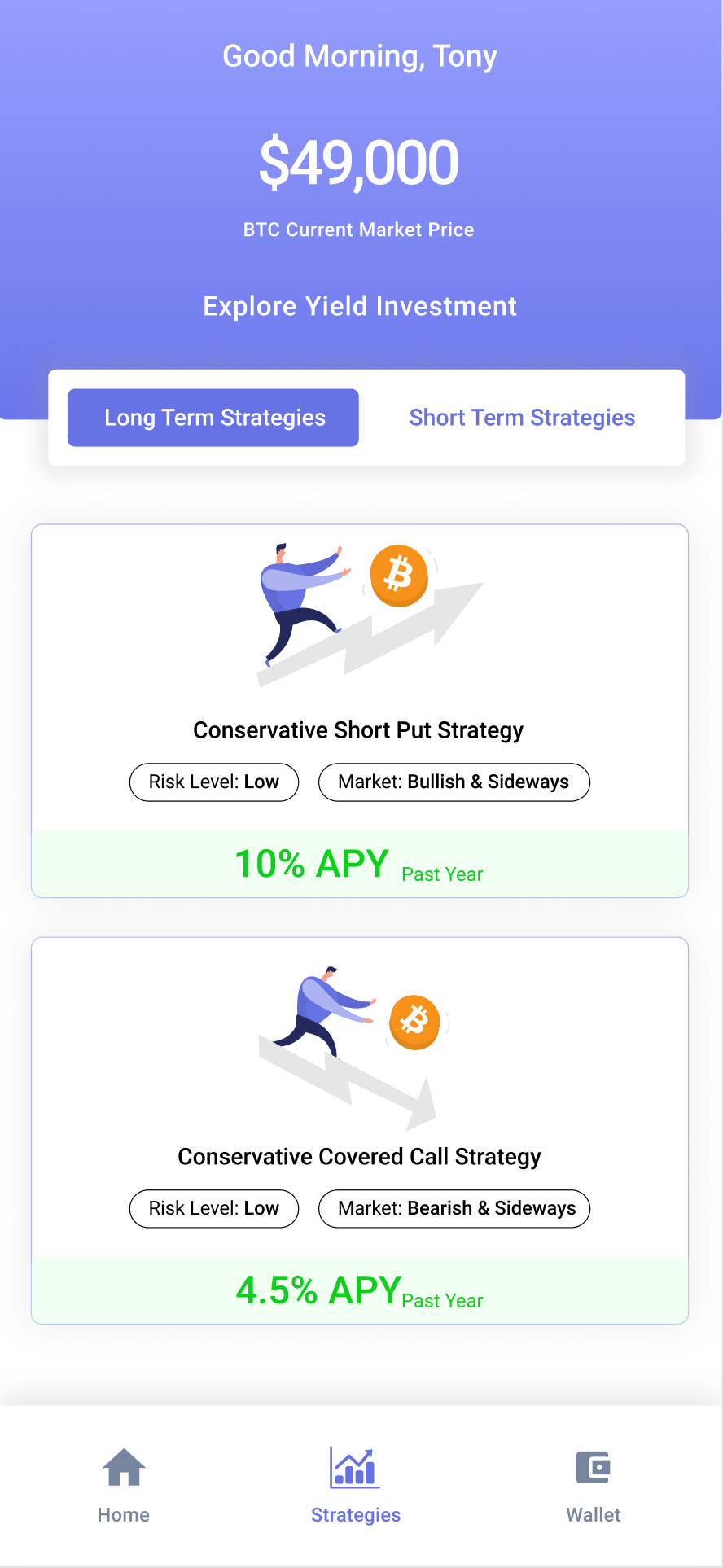 🎨 Product / Design & Closed Beta Learnings
In the early part of the month, we focussed on reaching out to our early beta users who were a few weeks into using the product. We scheduled Zoom calls with them in hope of getting more in-depth qualitative learnings around their experience with the existing product, along with early feedback on recurring strategies.
Main qualitative learnings on existing product:
Feeling of gambling: Many users let us know that entering into the positions felt more like a gamble, and felt risky. Especially when most users don't actively monitor the markets + know exactly where the market is headed
Bullish vs bearish tension: Tension in user's minds - "I'm bullish on BTC but entering into a covered call feels like I'm betting against it"
Risk and reward not there: For users yet to enter their first strategy - mentioned that their primary barrier is a feeling that the risk they're putting their BTC at is not yet worth the reward
Main quantitative learnings on existing product:
Earlier this month, there was a week where BTC experienced a large price movement upward. This led to some of our user's positions expiring ITM (meaning this lost BTC) due to BTC price being above the strike price.
Following this occurrence, we noticed a number of users who had these losing positions become significantly more hesitant to re-enter positions afterward
This corresponds to the qualitative learnings we outlined above and is even more motivation for us to implement recurring strategies - where there will be downside protection in place to significantly limit losses if these types of upwards moves reoccur.
Main qualitative learnings on upcoming recurring strategies feature:
Less gambling, more a viable long-term investment strategy: Sentiment shared by many users. Users who previously complained that the minimum 0.1 BTC deposit was too high for the existing product - now say that they're comfortable even with the higher minimums.
Downside protection helps quell user anxiety but also brings up new questions: Many folks were pleased to see the introduction of automatic downside protection to limit their losses in the event the market moves against them. This is a significant improvement from the potential for unlimited loss in the existing manual strategies product. Many had questions about how this feature works and when it gets triggered however.
Folks want recurring strategies ASAP! After giving us feedback on the feature over video call, a number of users told us they went ahead and selected a BTC investment amount and expected to be able to start investing in recurring strategies - only to hit the page where we say "Feature under construction"
⚙️ Engineering
Recurring strategy backtesting, stop loss functionality, improved testing and oracle validation were the key focuses
Backtesting a variety of recurring strategies that could be suitable for users
Tested covered call and short put trading strategies using historical data as well as indicators
2. DLC Protocol improvements
Added new message type that allows for stop losses
Added oracle signature validation
3. Improved app testing for seed phrase and wallet functionality
📖 Content / Social
We've continued to emphasize transparency in our approach to content creation and community engagement.
Rolled out Part 3 of our three-part ELI5 series about how folks can put BTC to work using Atomic.
This one was focussed on DLC's, with a previous piece discussing covered calls.
Transparency Thursday:
Continued ritual of having one member of the team upload a 1-2 minute video every week updating the community on the lasting happenings with the product and company
This has been effective in generating social media and Discord community engagement as well as sparking conversations and feedback amongst users to help us inform product development
Good signs! During recent onboardings, we've consistently heard praise from users we're onboarding around our approach to transparency through our content and our social media engagement
❤️ Customer Love / Twitter + Discord Engagement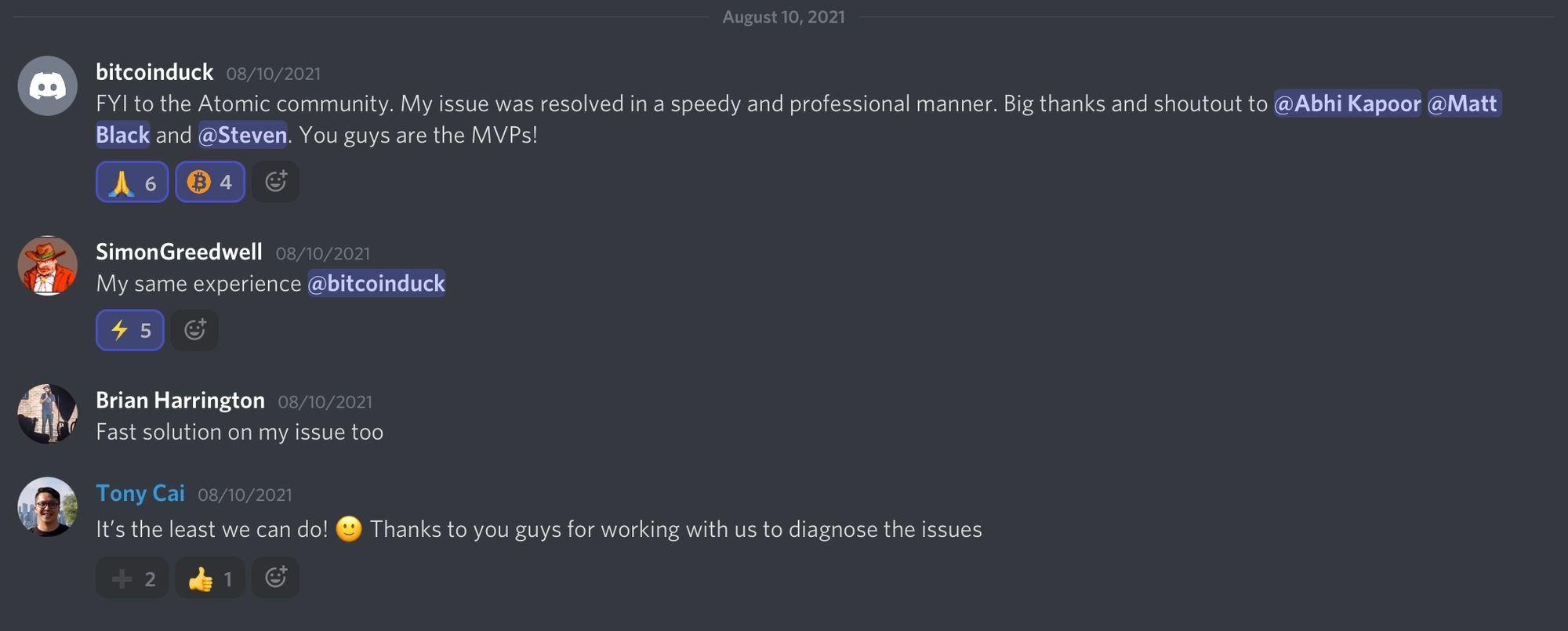 🔮So what next? Full steam ahead on shipping recurring strategies
Our primary focus in the next month:
After hearing positive early feedback from users on recurring strategies, we reached a point of significantly higher conviction in recurring strategies and its potential ability dramatically change the way users will behave and think about the product
We believe that we'll be able to significantly reduce churn, increase usage frequency, as well as increase LTV per user as it looks like many users will be more comfortable investing larger amounts of their BTC moving forward into recurring strategies.
The main focus now is to do all the nitty-gritty engineering, design, and product work to roll this out.
Engineering: adding the necessary infrastructure recurring strategies and stop losses, market maker bot hedging functionality and more tests.
We believe that if things go according to plan, we'll be able to roll this feature out by end of September.